SentryTalk System
Limited Time Offer!
$42/month
$36/month

In Stock
With a built-in speaker and microphone inside of the help button, the SentryTalk provides extra peace of mind for those who are at risk of falling. The SentryTalk medical alert requires a landline and comes with a two-way voice pendant and a waterproof help button that can be worn as a necklace or wristband. The newest technology in 2-Way Speaker Buttons!
Speaker Box:
24 Hours of Backup Battery
Requires a Landline
Works With Most Home Phone Services
Not compatible with Home Wireless Connect Phone Services
Monitored by EMD Certified Dispatchers in the U.S.
Help Button:
Up to 600 ft Range
Two Way Speaker Help Button
Comes with (2) Rechargeable Batteries
Extra Waterproof Help Button for Shower/Bath
A Senior-Friendly Option
Every home is different, and while our Advanced System works perfectly for most older adults' homes, some may require a different approach. Depending on the layout of your home & the quality of your hearing, you may find that having a medical alert with two-way communication through the help button (rather than the base station) works best for you. Likewise, if you or your loved one spends a lot of time out in the yard, garden or garage, our SentryTalk system is a great option!
Perfect for Use Outside
in Your Yard, Garden or Garage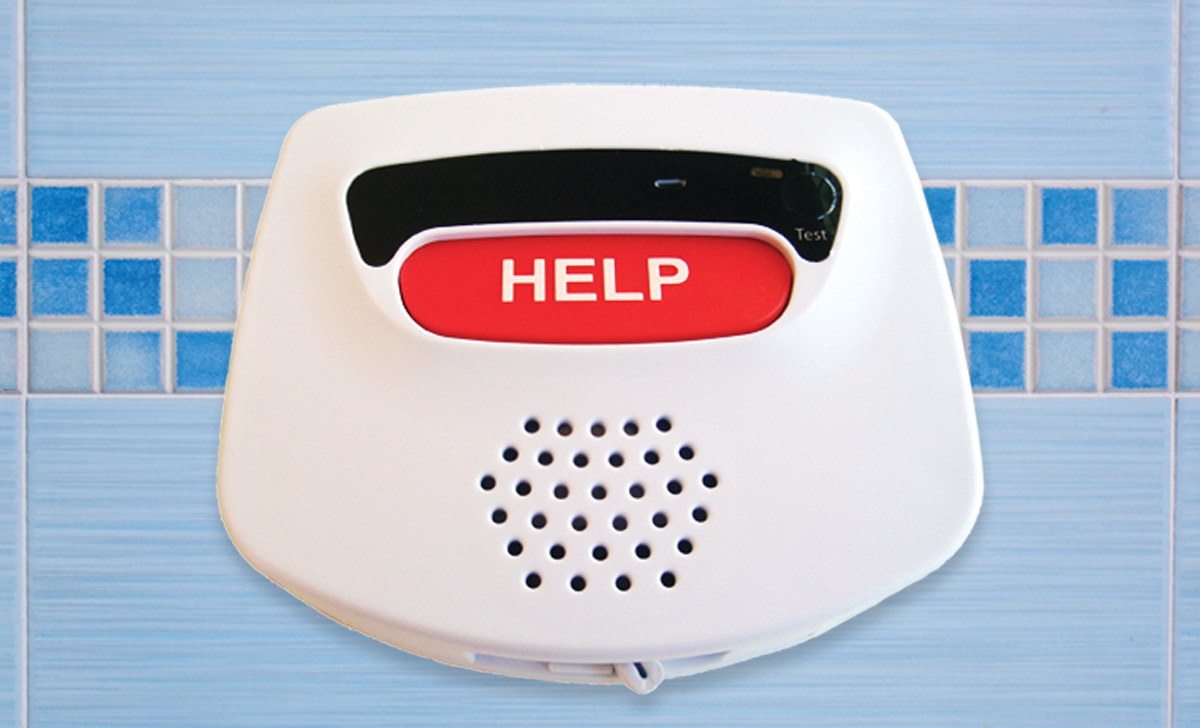 Studies show that 80 percent of falls happen in the bathroom. We recommend that all of our customers who use the SentryTalk system consider the Shower Button Add-On to protect them in those slippery places. Like the main SentryTalk button, you can speak back & forth with our operator through the button installed in your shower.
Only $36 per Month
December Specials All Month Long
Monthly
First 2 Months Paid Up Front
SentryTalk Plans Include:
We're so confident that you'll love our service that we offer every new customer a 30 Day Money Back Guarantee. Set up your new system at home & test it out! You can cancel within 30 days for a full refund.
While some companies lock you into a 3 year contract and even require proof that mom moved to assisted living in order to cancel, we don't! We want canceling your service to be easy. When you're our customer you can cancel at anytime for any reason! We even refund unused months back to you.
We offer our lifetime price guarantee because we know that so many seniors live on a fixed income. When you're a Senior Safety customer, your price will never go up. Plain & simple.
That's right! New Senior Safety customers can receive one free gift when they choose a Quarterly or Annual medical alert plan. Choose between:
1) Lockbox – $45 Value – Allow First Responders to gain access into your home without having to break your door or windows.
2) **$25 Visa Gift Card – Receive a Gift Card to buy groceries, gas, or gifts!
[Learn More]
Why sign up for a 3 year contract when you simply don't need to? We offer our service with no long term contracts (cancel whenever you need!) because we know that people's situations & needs change! Our service is about what's best for you… not our bottom-line.
Setting up your system is easy! When you order a Senior Safety Quarterly or Annual plan, we ship it to you free of charge. And unlike other companies, we don't require expensive installation appointments, equipment fees, or activation fees.
**In order to take advantage of our $25 Cash Gift Card Sign-Up Special, clients must return the rebate card enclosed in their order. We mail your $25 Cash Gift Card after your 30th day as a customer to say "Thank You". Offer only available for new customers & only honored when rebate card is returned. If canceled before the 30th day, customers who returned a rebate card will not receive the Sign-Up Special Gift Card.