Your Order Includes
30 Day Money Back Guarantee, Free Shipping, One Free Gift, Plus No Long-term Contract
Choose Your Free Gift!
That's right! Senior Safety customers can receive one free gift when they choose a Quarterly or Annual medical alert plan.
Free Priority Shipping
Fast Delivery
When you choose a Quarterly or Annual medical alert plan!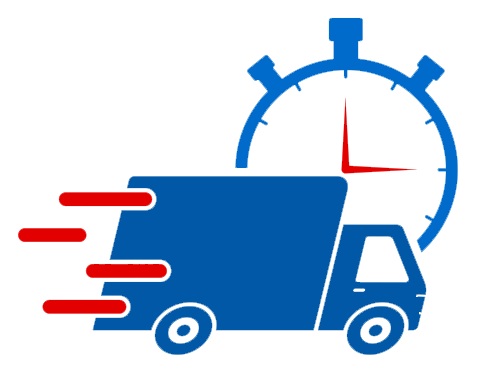 We're so confident that you'll love our service that we offer every new customer a 30 Day Money Back Guarantee. Set up your new system at home & test it out! You can cancel within 30 days for a full refund.
While some companies lock you into a 3 year contract and even require proof that mom moved to assisted living in order to cancel, we don't! We want canceling your service to be easy. When you're our customer you can cancel at anytime for any reason! We even refund unused months back to you.
We offer our lifetime price guarantee because we know that so many seniors live on a fixed income. When you're a Senior Safety customer, your price will never go up. Plain & simple.
New Senior Safety customers can receive one free gift when they choose a Quarterly or Annual medical alert plan. Choose between
a Lockbox, valued at $45, or receive a $25 Visa Gift card! (See details below).
Why sign up for a 3 year contract when you simply don't need to? We offer our service with no long term contracts (cancel whenever you need!) because we know that people's situations & needs change! Our service is about what's best for you… not our bottom-line.
Setting up your system is easy! When you order a Senior Safety Quarterly or Annual plan, we ship it to you free of charge. And unlike other companies, we don't require expensive installation appointments or activation fees.
Find A System That Best Suits You!
What does each system cover? Does it automatically activate during a fall? Where is the speaker located? These aspects of your medical alert coverage depend on which system you choose. Call 1-888-473-2800 to speak with the Senior Safety team about what you're looking for in a medical alert system.
Easy Setup & Great Customer Support!

Our systems are quick & easy to plug in, but we know that setting up equipment like this is not everyone's strong suit. Our Senior Safety Team helps many seniors & their families set up new systems over the phone & we will happily walk you through plugging things in as well. Once it's set up, you'll run a simple test. When you reach an operator, you know that everything is working & ready for use!
While all of our in-home systems are easy to set up, the No Landline Home Alert System "takes the cake" as easiest. Simply plug in the power cord & you're done. This one step setup is why we refer to the No Landline Home Alert as our EZ Alert. Great for anyone who doesn't want to fuss with phone cords or doesn't have a landline telephone service.
For as low as $19 per month, you or your loved one can stay safe using Senior Safety's medical alert systems. Our medical alert system prices fit any budget and lifestyle. You'll feel safe and secure knowing you're always in good hands at any moment's notice. Senior Safety is proud to offer affordable and convenient medical alert systems starting at a low $19 per month. These systems provide 24-7 coverage simply at the touch of a button. And that's not all! Additional features, like fall alert or LTE connection, cost only a few dollars more. That means you still save hundreds of dollars for premium features to support any friend, family, or loved one—or for personal use. The medical alert systems come in a variety of styles ranging from landline systems to mobile systems. Mobile alert systems cost $30 per month. Otherwise, consider a landline-mobile combo complete with landline and mobile alert packages for as low as $40 per month. Whichever type of medical alert system you choose, understand we don't charge any activation fees. No matter your lifestyle, Senior Safety is here to ensure you receive immediate protection and support for any accident, injury, or fall wherever you go.
Senior Safety is the ultimate solution for both landline and mobile medical alert systems. We offer affordable medical alert system prices for all lifestyles. If at any time you feel uncertain about using our products, call us for more information. We'll happily guide you through our home and medical alert systems, so you're comfortable with a 24-hour emergency response at the simple push of a button. Anytime you leave the house—even for a simple walk around the neighborhood—you need coverage. That's where these devices come in handy. With Senior Safety, you never need to worry about long-term contracts or activation fees. Did we mention we also have a 30-day money-back guarantee and you can cancel anytime? We only offer fixed prices, so you know what you pay. At the end of the day, give yourself some peace of mind by knowing you're safe and secure in your active lifestyle.
Frequently Asked Questions
About Our Costs and Services
Will my monthly fee go up?
Nope! That's one reason why so many of our customers stick with us over the years. When you order with Senior Safety, it's a guarantee that your price will never go up.
Are there any activation fees on top of the monthly service?
Let's face it, no one likes fees. They're annoying and can be hard to get rid of. So when it comes to our service, we proudly stand by by our No Added Fee Guarantee. The price we quote is the price you pay with no added activation fees. Many shoppers choose our on-the-go Mobile-Go Alert over our competitors because we don't require an activation fee up front.
Do you offer a discount for paying in advance?
Good news: Every plan is discounted, not just our annual plan! Our average month-to-month cost is lower than what most other companies charge you when making you pay for a year up front. Another piece of good news is if you elect to pay in advance but need to cancel, you'll receive a refund for any months that go unused. You can't beat this!
Can I change plans if I need to in the future?
You can change your medical alert system and plan at any time. In fact, many of our customers have ditched their landlines after learning that we offer a Home Alert System that doesn't require a home phone. Switching systems is quick and easy!
Does it cost more per month for two people living in the same home?
Our Home Alert System can be used by more than one person inside the same home. For no added costs per month! The Mobile-Go Alert will require two individual plans. Which would mean two times the cost of the service. Bundling the Home Alert with The Mobile-Go can be ordered by phone and is offered at a greater discounted rate.
Will I get a refund if I cancel?
Yes, we offer two different methods of refunds. First is our 30 Day Money Back Guarantee. Which means that if you order and return the system within 30 days, you will receive a refund for the month or months of service that you ordered. Our second method of refunds will refund customers who pay for the service in advance but need to cancel before their term is up. Those customer receive a refund for any months that go unused when the service is cancelled.
What comes with my order?
The home alert system comes with a base unit and (1) wearable help button. You can choose between a necklace or wristband when ordering. Your order will also come with a Vial of Life kit where you can provide Life saving information for first responders to have on hand in the event that you need to help. Additional accessories, like extra help buttons and lockboxes are available for purchase and can be included with your order.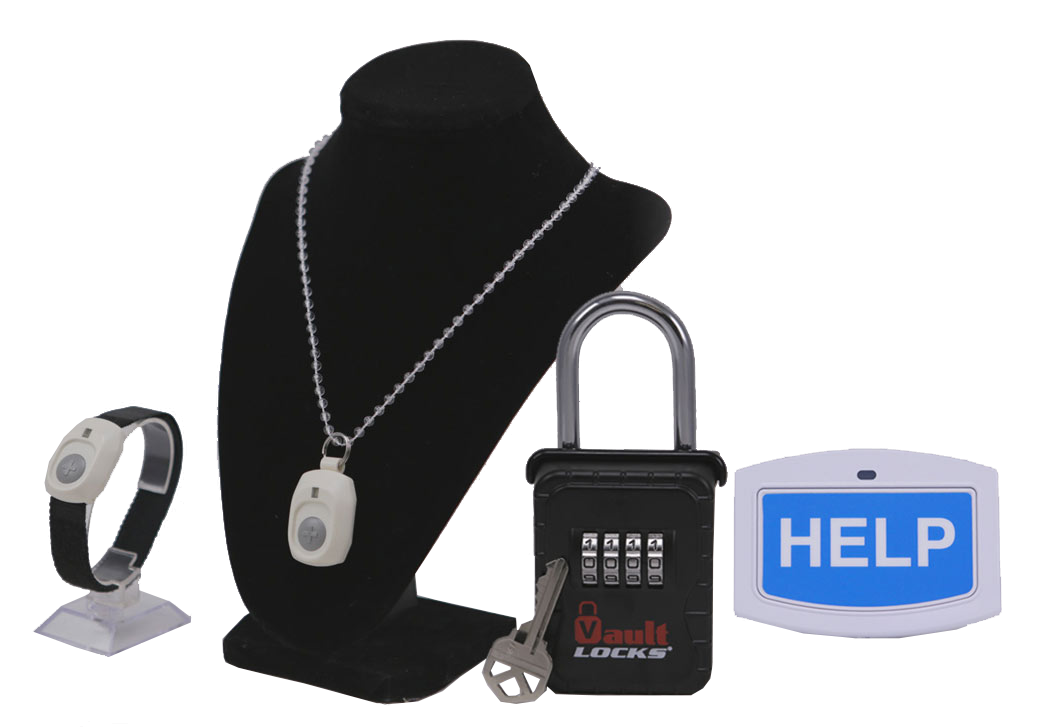 Lockbox
Help paramedics gain entry to your home without breaking a door!
Wall Buttons
Place wall buttons in the bedroom & bathroom for extra protection.
Customize your Senior Safety service to best fit you with extra help buttons & more…
***As a Special Sign-up Bonus, new customers can receive a $25.00 Visa Gift Card that works virtually anywhere inside the United States! This is our Way of saying "Thank You" to those who put their trust in Senior Safety. Here's How it Works:
1) Sign up on any of Senior Safety's quarterly or annual medical alert plans.
2) Keep your service for just 30 days and send in your Senior Safety rebate card.
3) We'll send your $25 Gift Card to you by mail!
* Bundle w/ Home Alert +$10 requires a landline. No landline option additional +$10
* Life Alerts ® is a registered trademark of Life Alert Emergency Response, Inc.
** Philips Lifeline ® is a registered trademark of Koninklijke Philips N.V.