Learn About Our "Best Rated" Service…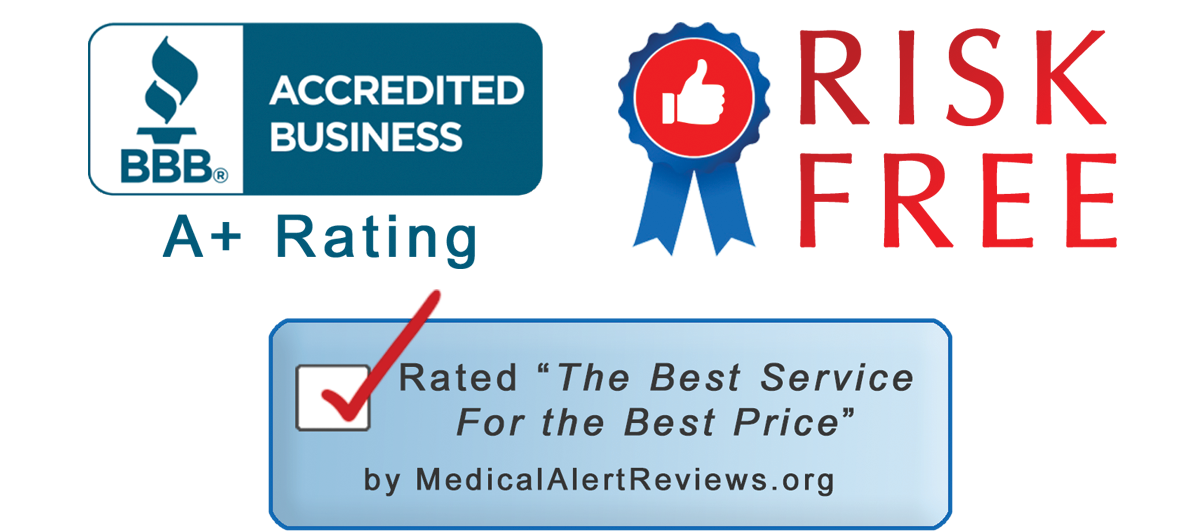 These are just some of our favorite customer testimonials that help portray the wonderful service we provide!
I wanted to write a thank you note for everyone concerned that saved my mother's life. If not for your company and the quick response of the fire and police depts; my mother would have bled to death. She remembered to press the button on her necklace when she fell Monday morning in the kitchen and hit her head on the table. I was at work and if she had not pressed the button she would have laid there until I got home 9 hours later.
I cannot thank you all enough. My mother is 92 years old and is going for 100! 
Thank you again,
Robbie S.
Thank you for your wonderful support during our time with your organization. We were so relieved to know our father was under your watchful eye.
Sincerely,
Cynthia S.
I must tell you how much of a difference your service has made to all of us. My husband and I are able to carry on our normal lives again. My dad feels less of a burden to us and much more secure knowing that he has a "safety net". Not only have we continued to use your service in our home, but when my father travels to see my sister in Texas, or my brother in Massachusetts, I pack up the unit and send it with him. We make one simple call and everything is back on line. They can't believe how simple it is to transfer.
I just wanted you to know that we are very satisfied with the unit and your service. It has given us back our freedom and peace of mind.
Sincerely,
E. Smith
Though I haven't the time to write more than a few words at this time, I must tell you that "Get Help Now" was instrumental in saving my mother's life. It will be my pleasure to recommend your service to whoever might find themselves in need of it. I also found everyone in your employ courteous and helpful.
Most sincerely yours,
M. G. Meyer
I called your office recently and came into contact with Lisa who was very informed on your medical alert.  There was not a question the lady could not answer. She was awesome, cheerful, happy, laid back, smart, wonderful & answered all my questions.  She's got to be an assett to your company.  It's no wonder your company is where it is today!  Thank you for Lisa!
Yours truly,
Mrs. Betty.
As I said on the phone, we didn't need you a lot over the years, but when we did you were there! Peace of mind is your best "product".
Thank You,
Laura S.
I want to compliment you on the system as it worked exactly the way it was supposed to when she needed it this past year and your people were great. Also, when she accidentally set it off a few times, they were also very understanding and helpful to her.
Sincerely,
Noreen M B.
My sister found your company on a medical alert reviews site, and I'm glad that she did. Mom can afford to pay for this herself; she really enjoys having a button to wear and knowing that she could get help if she needed. She hasn't had to use the button yet (which we're so happy for). As long as she's living at home we'll be using your great equipment.
Thank You!
Jonathon F.
We thank your company for the great comfort and assistance you have provided our Mother throughout the years. Your service helped her live on her own till after she was 90 years old.
Thank you Again and Again,
Phyllis A.
Dear Sir, I have had occasion to use your service. I woke up having great difficulty breathing. I finally called my son. He told me to press my "Little White Button" at once. In no time wasted a very nice man spoke to me. He informed me help was on the way. And he would stay on the line until help arrived in my house.
Both my Son and I want to say "Thank you" to that young man on duty that morning – we feel quite sure that that "Little White Button" saved my life.
Sincerely,
Mrs. C.
It was a pleasure dealing with your company. Any time I called I was treated with care and understanding, and whomever I talked with was professional and courteous and very helpful. My father passed away and we no longer need your services.
Thank you,
Greno D.
Thank-you for your wonderful service you provide. It was a great source of security to our family and enabled our Mother's independence.
Sincerely,
The MacPhail Family
Please accept my deep gratitude to all your personnel who so quickly and courteously responded to my call for help on the evening of September 30. I shall never forget the warmth and concern of all involved as they rapidly ensured that I was taken in an ambulance to the Hospital, where treatment was rapidly administered for what turned out to be an acute and extremely painful inflammation of the colon.
My warmest thanks for the skill, efficiency as well as the warmth and courtesy of all involved!
With ever good wishes,
Silvia W.