Fall Detection Add-On
In Stock
Our Fall Detect Add-On works with our Advanced System & Cellular System and automatically detects a fall when you're unable to push the button. Its lightweight design and waterproof casing makes our Fall Detect add-on the most elite automatic fall detection button on the market today!
Fall Detect Button:
Available with Advanced & Cellular Systems
Automatically Activates During Falls
Up to 1,000 ft Range
5 Year Battery Life
100% Waterproof
Available as Necklace Pendant 
Harnessing the Power of
Fall Detection
How does it work? Well, let's get technical for a moment.
Our Fall Detect System uses both an accelerometer and gyroscope inside the button to monitor you. The accelerometer measures your acceleration, and the gyroscope tracks your angular momentum. Based on your movement, momentum, and angle this specialized system is able to detect when you fall. 
It's important to note that NO system can auto-detect every fall.
But by choosing fall detection you significantly increase your chances of getting help when you need it the most – A clear choice for many
seniors and their families
!

Stay independent longer! Many seniors who do not get help quickly (staying on the ground for an hour or more) are unable to return to their independent lives due to injuries & ensuing medical conditions.

Getting help quickly is important to your health
AND
your pocketbook - Having a way to get help during emergencies reduces unnecessary medical costs.

Provide your family with peace of mind. Having the most comprehensive protection helps end all the "what if's" & endless worries.
The Best in
Fall Detect Protection
Comes with (1) Fall Detect Button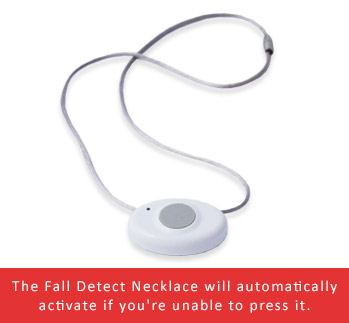 When you choose Advanced with Fall Detect or Cellular with Fall Detect, you receive (1) fall detect necklace-style button designed to detect falls. The fall detect button is waterproof and can even be submerged while bathing.
Who needs a fall detect button?
We offer different systems, each ideal for different situations. Our Advanced System comes with everything most seniors need in a medical alert! However, for many seniors and others with special situations, fall detection truly is a life-saver. Fall detection is designed for seniors who have a history of strokes, fainting, or other conditions that may prevent them from pressing their help button, but anyone can use them. In fact, many families prefer fall detection for the extra peace of mind it provides.
What to expect when a fall is detected…
First things first… when a fall is detected your medical alert system activates, quickly alerting our Monitoring Center. Within seconds you'll be able to talk with an EMD Certified Operator over the system's speaker. Even if you are unable to speak, we will get you help. If you can, tell the operator what's going on & what sort of help you need. They can call someone off of your list of contacts if you want, or quickly dispatch your local first responders in an emergency.
ADVANCED WITH FALL DETECT




$29 per Month


August Specials All Month Long
Monthly
First 2 Months Paid Up Front
CELLULAR WITH FALL DETECT
Monthly
First 2 Months Paid Up Front
The Myth of False Alarms
When seniors & their families hear about how the fall detect button works, they often have questions about false alarms. Medical alerts that detect falls have been on the market for a few years & this technology has advanced a lot since it was first introduced. False alarms are not a problem with our fall detect buttons & most of our customers who have used them for years will never encounter a false alarm. That said, false alarms can happen with or without fall detection & its nothing to be scared or nervous about. If a false alarm happens, the operator will come over the speaker box. Simply respond to the operator & let them know that its not an emergency. If for any reason you're unable to hear the operator over the speaker, they will attempt to call your home telephone, giving you another opportunity to answer before automatically dispatching help to your home.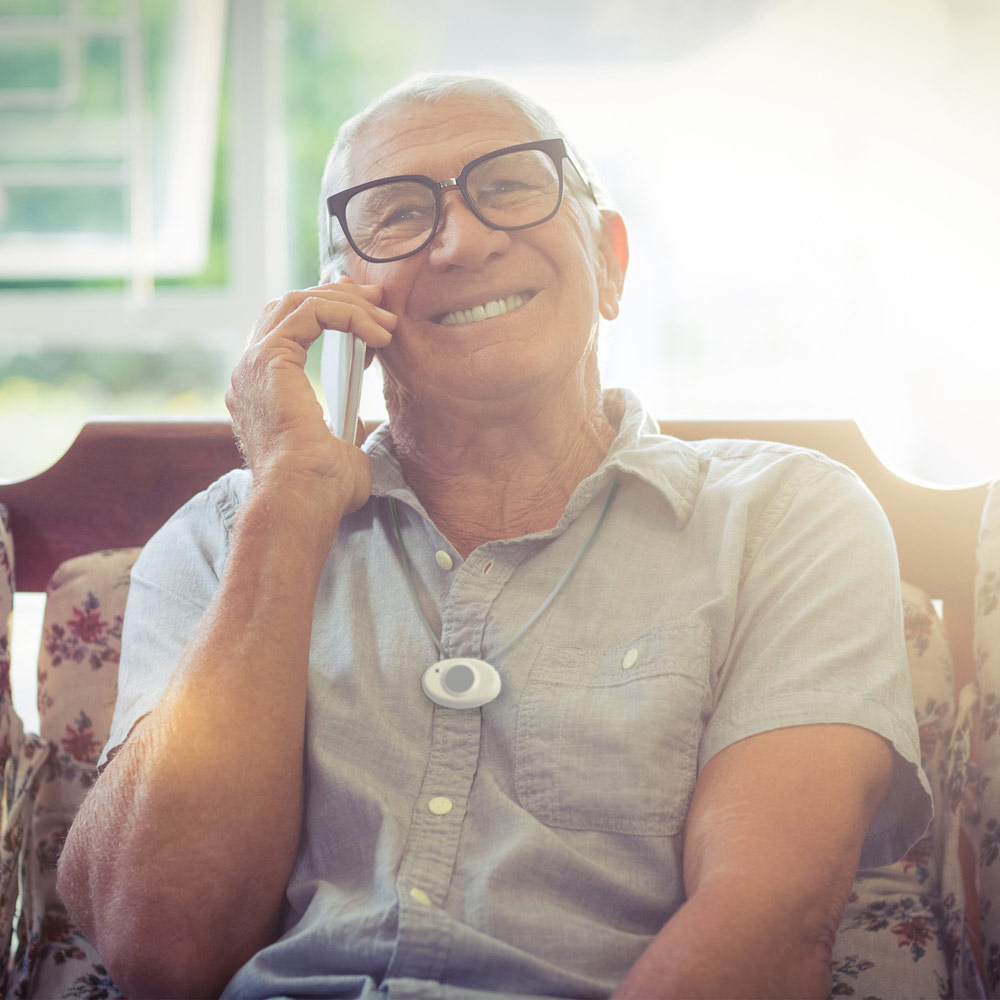 **In order to take advantage of our $25 Cash Gift Card Sign-Up Special, clients must return the rebate card enclosed in their order. We mail your $25 Cash Gift Card after your 30th day as a customer to say "Thank You". Offer only available for new customers & only honored when rebate card is returned. If canceled before the 30th day, customers who returned a rebate card will not receive the Sign-Up Special Gift Card.