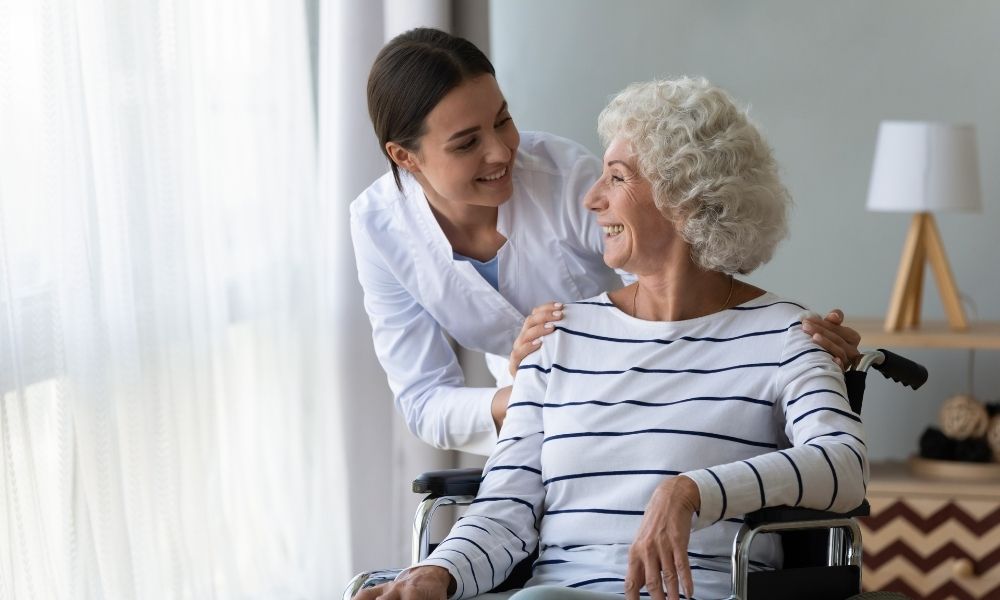 The home care industry is one of the United States' fastest-growing health care sectors. Every day, patients recognize the benefits of home care. That said, agencies are experiencing a growing demand for caregivers and companions. As the home care industry evolves, learn all the latest caregiving trends to consider in 2021 to stay updated.
Defining Home Care
Home care is known as a professional support service that supports patients in their own homes. The employees are caregivers who meet the needs of their patients on a daily (or as needed) basis.
Who Benefits From Home Care?
Home care agencies typically serve individuals who suffer from chronic health issues and disabilities. They also serve people who are recovering from medical problems, as well as people who need assistance living independently. Though the patients directly benefit, friends and family members appreciate caregivers because they know their loved ones are in safe hands.
Why Is Home Care Important?
Unlike hospitals, rehabs, and retirement homes, people have a sense of comfort and security being taken care of inside their homes. Sometimes patients are recovering from illnesses, and being around other people will worsen their condition. Some patients require heavy monitoring, and a one-on-one caregiver can meet their needs.
Types of Home Care and Services
Short-term home health care. Designed to help patients recovering from injuries or hospital stays. Caregivers stay until medical professionals tell them they're no longer needed.
Long-term nursing care. Created for patients with chronic illnesses, injuries, or disabilities. Skilled nurses provide hourly care.
Home health aide/companion. Crafted for patients who desire daily assistance with things like household chores and personal care needs. This excludes medical care.
What's Trending?
The topics below are all the latest trends in the home care industry. You will notice some topics have an emphasis on technology, as it correlates with the COVID-19 pandemic.
Remote Monitoring
During the first wave of the COVID-19 pandemic, doctors' offices took advantage of remote monitoring and telehealth. This meant patients didn't have to leave their homes to access their primary care physicians. Ultimately, this optimized caregivers' time, as they didn't have to transport their patients to appointments. This helped the health care industry by still providing support while avoiding close contact. An important thing to note about remote monitoring is that it excludes physical examinations. In case of an emergency, think about purchasing a medical alert device. Among the many benefits, consider the affordability of life alert's monthly cost when making your decision.
Telemedicine
Along with remote monitoring, many doctors opted in to Telemedicine. This refers to all the ways a doctor can contact their patient without being in the same room. It includes video chats, phone calls, texts messages, and emails. Telemedicine has seen an increase of users in 2020 and continuous growth in 2021. Patients can schedule follow-ups and non-urgent doctor appointments.
Benefits of Telemedicine
Elderly and rural patients have consistent access to their doctors.
Reduces cost of transportation.
No waiting room time.
No exposure to other patients and illnesses.
Specialized Home Care
In the past, home care services took a generalist approach to assigning caregivers to patients. Now, these agencies are expanding their services into specialized care. This includes patients with brain injuries, COPD, degenerative diseases, mental health problems, and so on. Specialized care helps in personalized training and planning. Caregivers will understand what's expected of them and develop a deep understanding of the patient's condition.
Demand for Companionship
Before the pandemic, the home care industry has seen a high demand for companionship, especially in older adults. Luckily, home care operators are launching new services that include companionship as opposed to standard caregiving.
Difference Between Companionship and Caregiving
Companion care provides non-medical services like emotional support, light housekeeping, and accompanying clients to activities. Caregiving requires medical care such as transporting patients to doctor's appointments, assisting in personal hygiene, and administrating medication. Although caregivers are expected to help medically, they can provide companionship as well.
Evolving Agencies
Home care agencies are expected to evolve into a "digital mindset" in 2021 and from here on out. We live in a technology-driven society with several medical advances. Thanks to these advances, patient care is optimized, and communication is at an all-time high. Given the new role, caregivers should anticipate the use of technology daily. Whether it's assisting patients in telehealth appointments or using agency apps, technology will be an integral part of home care.
Franchising
The home care industry is fragmented, as the market is made up of independent and corporate operators. Due to economic downturns and world health concerns, independent operators took a hit. Many employees stepped away because of a decrease in hours and a fear of coronavirus exposure. When things were getting back on track, new legal requirements and Covid-related operational challenges made it even harder for individuals to operate independently.
As a result, caregivers turned to home care franchises. These established franchises have a steady clientele and make it easier for caregivers to earn revenue. Most services have seen employee growth and created new sectors within their business for the advancement of patients.
More Training Hours
A trend that franchises and agencies should consider is investing in more training hours. Research shows that organizations see higher revenue when they provide employees with eight or more hours of training. Especially with the increase in specialized home care, extra training is critical to a caregiver's success.
Future of Home Care
The home care sector of the health care industry will continue to grow. The projected numbers of the aging population lead to a greater demand for home care services, making it possible for franchises and agencies to flourish. Along with the increase in patients and caregivers, technology will play an active role in daily operations.
We understand the role of caregivers and the vital part they play in you or your loved one's life. They help by providing day-to-day care for those who need it the most. Luckily, the home care industry isn't slowing down anytime soon. Discover the latest developments by turning to our caregiving trends to consider in 2021 for more information. Although it's great that the industry is growing, some caregivers aren't available all day. Therefore, you need around-the-clock protection. Senior Safety is a trusted provider for affordable and reliable senior medical alert devices. Call us today to learn more about our devices!