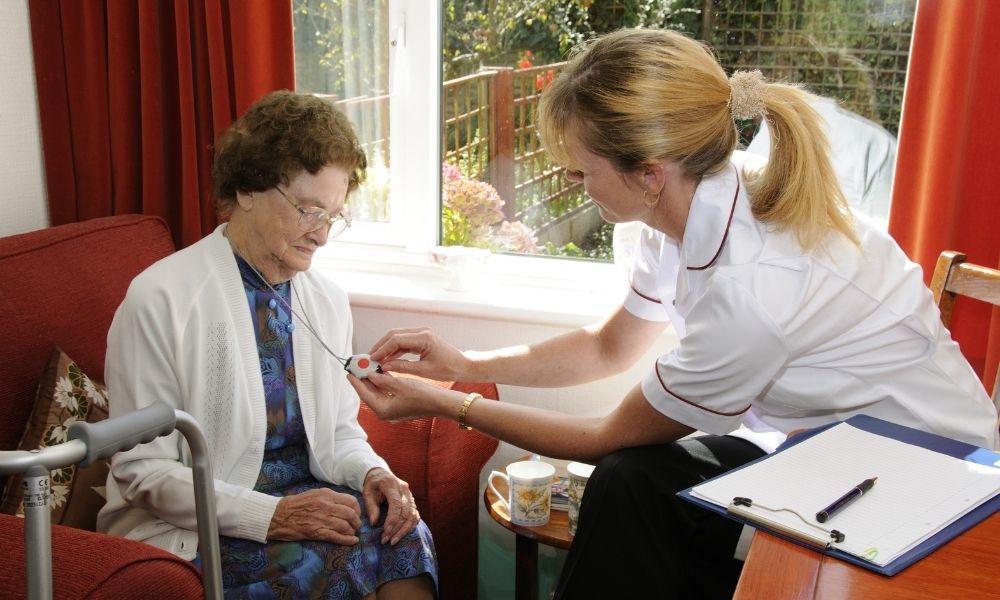 Older or impaired individuals may need additional help at home, and that's okay. Unfortunately, relatives or caregivers may not be there at all hours of the day. That's where medical alert systems come in. Check out this beginner's guide to medical alert systems to see how they can help. With affordable prices and convenience for any lifestyle, there's no reason not to order one for yourself or someone you care about.
What Are Medical Alert Systems?
Medical alert systems are some of the best ways to protect seniors and other older adults in their times of need. While not limited to use by older individuals, these home-based systems ensure protection and coverage all day long. Medical alert systems communicate emergencies, accidents, and injuries from the caller to medical personnel. Some alert systems even offer communication with friends and family, too. From there, a dispatcher will assist with your issue and send a team of trained responders to your area. These are some of the best ways to ensure you're safe wherever you go, especially since both home- and mobile-based systems are available. Many of these systems also use a one-touch button response for easy convenience.
How Do They Work?
There are two main types of medical alert systems used today: home-based and mobile. Home-based medical alert systems connect to your landline telephone service. They offer a wide range to work inside and at some places outside of your home. Home medical alert systems can even come with the added benefits of fall detection and family check-in features.
Mobile alert systems operate similarly. However, instead of connecting to your landline, these medical alert systems are portable for on-the-go use. They're small, which makes transporting your mobile alert system easier than ever before. Mobile alert systems use 4G LTE technology to protect you at the grocery store, out in the garden, or on a neighborhood walk. As with home-based systems, you can also add features like automatic fall detection for further safety and security.
Who Should Use Them?
Whether someone needs a medical alert system depends on a myriad of factors, such as age, lifestyle, budget, and health. Medical alert systems are often associated with older individuals. Seniors living on their own are the target demographic because they often face the uncertainty of age and health. For instance, as one ages, their cognitive and physical capabilities weaken. One fall, accident, or injury could prove more serious if they're unprotected. That's why medical alert systems offer the best coverage and safety for seniors. While they function in the same respect as dialing 9-1-1, the simplicity and convenience of medical alert systems offer more than a standard cell phone. Plus, not everyone can use a cell phone, given the touchscreens, buttons, and mechanisms involved.
Additionally, anyone with cognitive or physical disabilities may need a medical alert system too. There's no age requirement to owning one. In fact, it's safer and wiser to purchase a medical alert system for functioning independent adults who need more help. The 24-hour coverage ensures safety and reliability at home or on the go.
Cost
Part of any beginner's guide to medical alert systems should include a section on cost. While medical alert systems may seem costly at first glance, they're actually quite affordable for most budgets. Many medical alert systems require no additional taxes or equipment fees. As a result, you only need to make monthly payments. More so, these monthly payments average close to $19 per month for landline systems and $29 per month for mobile systems. You can even opt for a duo home and mobile combination plan for only $40 per month. With this combination, you receive coverage at home and away for the complete home alert and mobile-go package.
If you want additional features like family check-ins or automatic fall detection, you'll need to pay a few dollars more. Know that you can cancel your protection at any time without penalty. These are set prices, so you're never surprised by unforeseen fees. If you live on a fixed income, a medical alert system is an affordable solution to protect against safety risks. With these prices in mind, you may wonder how a medical alert system compares to an average cell phone. Unless you need a smartphone for work or entertainment purposes, medical alert systems are a cheaper alternative to expensive cell phone plans. You'll save hundreds from not committing to any monthly phone plans after switching to a home or mobile medical alert system.
Lifestyle
It's also worth mentioning that medical alert systems offer greater independence and livelihoods for those who use them. Not everyone is comfortable with at-home caregivers or assisted living facilities. In fact, these alternatives can be costly. If you're someone who wants to remain independent in your older years, you can still do so with the coverage of professional medical personnel with one touch of a button. Also, consider gifting a medical alert system to a parent, friend, or loved one. Medical alert systems offer the best reliability for adult children who are worried about their aging parents. Not everyone can be there in your parents' time of need. Whether you live out-of-state or live nearby but just want to provide the best, most convenient protection, a home or mobile medical alert system will do so. You save more money and reduce your anxiety over your parents' well-being in return.
Given all that, Senior Safety is the ultimate solution to finding affordable medical alert systems for yourself or someone you care about. We offer unbeatable medical alert system prices for home and mobile medical alert systems. For as low as $19 a month, a home landline medical alert system is the answer. You receive coverage around the home without any equipment or activation fees. 4G LTE connectivity and automatic fall detection cost extra, but only a few dollars more. Our mobile alert systems cost $29 a month, or you can opt for a home-mobile combination for only $40 per month. If you have any questions, please give us a call. Otherwise, order your new medical alert system from Senior Safety today!