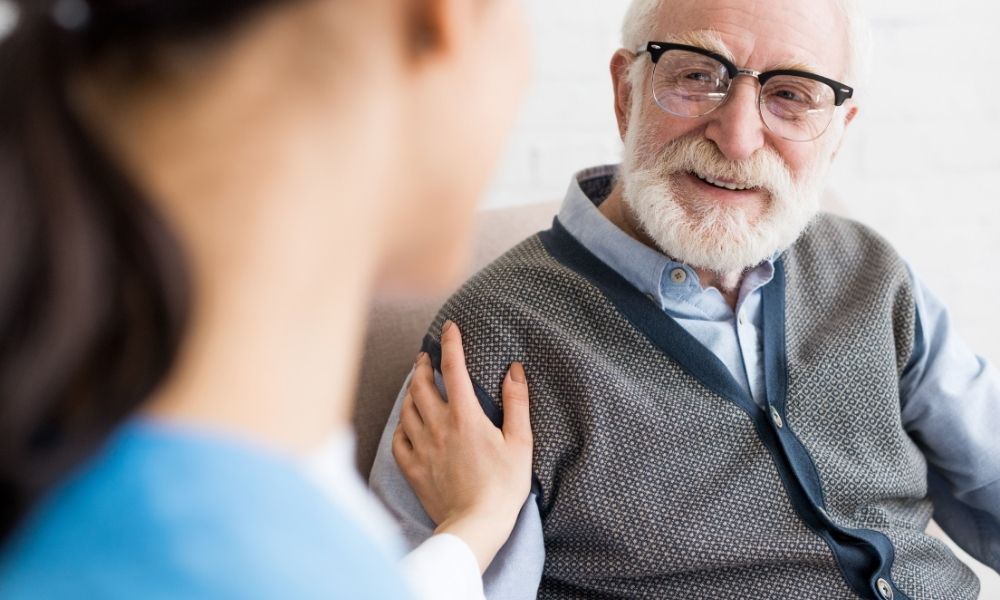 Everyone should feel safe in their home. Whether it's with a medical alert system or cell phone, it's important to have clear broadband technology that ensures clear communication and protection in case of medical or safety emergencies. Still, the question remains: medical alarm systems vs. cell phones: which is safer? This guide explains the advantages and disadvantages to both to help you decide which is better for your lifestyle.
Medical Alert Systems
Medical alert systems provide 24-hour coverage and protection for any senior or person with disabilities through one-touch alert. Many of these medical alarm systems connect to your landline, LTE, or Wi-Fi connection. Once someone notifies medical dispatch of a fall, accident, or injury, dispatch alerts medical personnel of the location and situation in record time. This way, you receive help for your situation as fast as possible. Some medical alarm systems even provide fall detection that automatically alerts dispatch of the situation before you make the call.
Advantages
Given that, there are many advantages of medical alert systems to consider. For one, it offers a centralized monitoring center in case of emergencies. With the touch of a button, those in need can alert medical personnel for help at immediate notice. It can also alert caregivers, friends, or family listed in your contact list. Medical dispatch will further relate any medications, medical conditions, allergies, or other health concerns to personnel. Another advantage to medical alert systems is that mobile systems use GPS location services. Rather than remain trapped in your house due to age, health conditions, or other concerns, you remain independent and protected wherever you go. Mobile systems provide emergency responders with your exact location wherever you go. That way if you're outside tending to your garden or on a nature walk when an incident occurs, they'll be there. Medical alert systems are also notably convenient. Whether using a home landline system or mobile system, medical alert systems utilize a central one-touch button response to alert responders of your issue.
Disadvantages
Even with these advantages, there are some disadvantages of medical alert systems to keep in mind. Using a medical alert system requires some patience and pride that some people may not feel immediately comfortable using. It's always a major step to ask for help, especially as an independent. Any major lifestyle change takes time to adjust. Using a medical alert system is no different, but its convenience and ease of use is simpler to adjust to than assisted living or hiring a full-time caregiver. Also, compared to a cell phone, medical alert systems have one basic function: to alert medical responders of your immediate health and safety hazard. The prime reason for using a medical alert system is to keep yourself safe from harm and receive help when you need it. Cell phones—especially smartphones—offer more features. You can browse the web, watch movies or TV shows, read electronic books, and play mobile games on a cell phone. Medical alert systems cannot perform these functions. Still, these aren't requirements for a better lifestyle either. You can make use of a television, book, or computer to fulfill these purposes and still have a medical alert system in your home.
Cell Phones
When choosing between medical alarm systems vs. cell phones: which is safer, it's important to see how cell phones compare. It's safe to say most people own some type of cell phone today, whether that's a basic flip phone or smartphone. Cell phones have become a staple utility. Aside from making calls or texting friends, family, or loved ones, smartphones have a wide range of software applications that help make life easier to navigate. You can find apps designed to track medication use, grocery lists, and other basic to-dos to make life easier and more convenient. When it comes to safety, cell phones have a wide range of versatility and tracking nationwide. Here are some advantages and disadvantages to know when compared to medical alert systems.
Advantages
One of the best advantages to using a cell phone is that you can call anyone from basically anywhere. The wide range of LTE service allows even some of the most remote people access to the outside world. Aside from that, 911 is the go-to service number for emergencies. Any call to 911 alerts a dispatch crew of your location while you explain the situation. From there, they'll send emergency responders—police, firefighters, or EMTs—to your location. If you don't feel comfortable alerting first responders, you can always call a friend, family, or neighbor to help.
Disadvantages
Cell phones aren't perfect though. Not everyone is capable or comfortable using a smartphone. Older individuals or those with disabilities may not have the functional capacity to operate a cell phone, especially with its intricacies and designs. That's where a medical alert system comes in handy, given its one-touch button system. Not to mention, cellular payment plans get costly. Even if you live alone and pay for your own cellular plan, you pay monthly costs which can add up in long-term expenses. Many medical alert systems offer low payment plans that avoid this issue.
Which Is Safer?
It's difficult to answer whether a medical alert system is safer than a cell phone because they both function the same. When it comes down to any fall, injury, or medical emergency, both methods of communication serve to alert medical responders of your incident and location. Still, it largely comes down to lifestyle preference. Some people are not comfortable using a medical alert system and may feel it's too much of a lifestyle change. Other people may not feel comfortable using a cellphone or have difficulty navigating its smart technology if using a smartphone. Whichever you decide, the important part is that you feel safe and secure in your choice.
Senior Safety made finding a reliable medical alert system with a landline easier than ever before. Our landline home medical alert systems cost as low as $19 per month with no added taxes or equipment fees. With clear communication, you're able to talk to medical dispatch, friends, and family without issues. Order now or call for more information.